Yoga for EVERYbody!
Monday & Wednesday: 9:00 am – 10:00 am
My home studio in Tigard, OR 
These classes will help you develop strength, improve your balance, and lower stress.
You will be introduced to yoga postures through step-by-step verbal descriptions and demonstrations.
Emphasis is placed on safety and stability within each pose. Gradually these poses will be linked together into a gentle flowing sequence.
If you have NEVER tried yoga this is the class for you! Designed to meet the needs of students new to yoga, as well as students seeking continued understanding of basic yoga poses.
Cost: Drop in for $15.00 | 10 classes for $100.00 (class size is limited to 6 students)
Please feel free to contact me with any questions. I look forward to seeing you on the mat!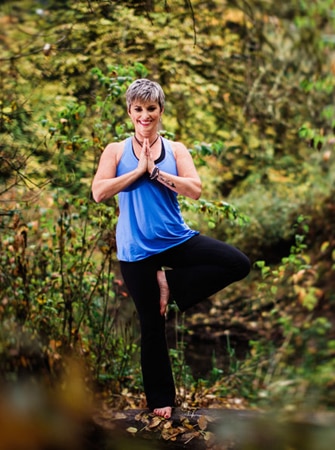 Corporate yoga classes are an excellent way to improve workplace morale, increase productivity and create connection between employees. Classes can be scheduled as a welcome break during an otherwise busy day, or a way to offer relaxation at the end of day.
Employer benefits include:  
Happier, more productive employees
Decreased stress-related sick days
Teaches individual stress managment
Improved motivation, concentration, and decision making skills
General well-being in the workplace with reduced employee turnover
Improved flexibility and physical strength
Stronger team bonds
What will you need to provide?
A quiet comfortable space large enough to use (meeting rooms work well!)
Each participant will need a yoga mat.
About the classes:
All classes are designed to fit the needs of the individuals in each group and are suitable for all levels including absolute beginners!
Please contact me for more information!